Just when summer has finally arrived and we're actually getting use of our maxi dresses and gladiator sandals, in the world of fashion, we should already be planning our winter wardrobes!
If the thought of investing in a whole new wardrobe for the new autumn/winter season is leaving you flustered and unsure, then fear not...I have put together a fail-safe guide to get you ready for the new fashion season!
It's an exciting season ahead with trends ranging from the ever-popular 70's trend, maxi skirts, bright and chunky knits, animal prints, polka dots and androgyny.
With so many beautiful pieces flooding into the high street stores already, you're sure to be spoiled for choice, and with my AW11 Fashion Guide, you'll know exactly what to invest it, which trends to embrace and which ones to avoid.
First, colour! Gone are the days when dressing for autumn and winter meant opting for black and navy, this season, designers had a field day and the catwalks were awash with beautiful brights! Reds added a contemporary edge to classic camels whilst vivid primary shades broke up black and brightened warm autumnal hues. Burberry showed amazing bright military coats, and Jonathan Saunders mixed every beautiful colour under the sun. Fancy a dip into the colour trend? Why not paint your nails a gorgeous shade from the rainbow.
Burberry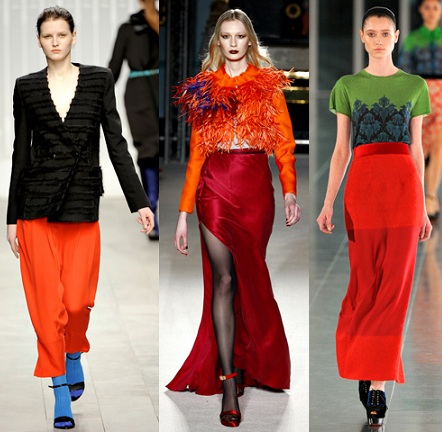 Jaeger, Roksanda Ilincic, Jonathan Saunders
Of course, the other huge colour trend, and something a bit better for the less fashion brave out there, was the monochrome look. When colour wasn't dominating the catwalk, black and white took center stage. Julien McDonald swapped his signature jewel tones for crisp whites and gothic blacks, and Giles and Louis Vuitton took the gothic inspired black into their collections as well.
Julien Macdonald
Louis Vuitton
Fancy a break from the femininity of summer? Another huge trend for AW11 is androgyny. Suits and oversized tailoring where sent down the runway by the likes of Stella McCartney, Dolce and Gabbana and Celine. Oh boy!
Stella McCartney
Dolce and Gabbana
Feeling brave this season? Try the most out there trend of the minute, photographic prints. Birds, bird cages, flowers, feathers, skylines, you name it as long as its colourful and digitalized, it's on trend! Erdem and Mary Katrantzou showed the trend best with their bright and punchy mix of prints and colours.
Erdem
Mary Kantrantzou
Although the 70s were huge for the summer (and were still visible on a few AW11 runways), for the new season, it's all about two time eras, the 40s and Victoriana. Gucci and Mulberry showcased the 40s trend beautifully with tailored coats and Peter Pan collars, and Temperley London and Meadham Kirchhoff brought the Victorian times right into 2011 with lace, ruffles and pearls.
Gucci
Mulberry
Meadham Kirchhoff
Finally, the texture trend is one to definitely incorporate into your life. Sequins, faux fur, velvet, lace and leather were shown all together at Etro and Fendi, creating stunning luxe looks that begged to be touched. If the thought of wearing several textures at once isn't for you, why not mix a sequin hat with a faux fur waistcoat – a perfect and subtle nod to the trend!
Fendi
Etro
So there you go! I hope you enjoyed my little guide. I know I am most excited about trying out the texture trend this season. What about you? Which ones will you be trying out? Enjoy x