I was very kindly sent a few samples from one of my favourite beauty brands, Simple, to try and review. Now I have uber sensitive skin, so I try to be really careful what I use. I don't like anything perfumed or overly complicated, and I have been using Simple facial wipes since I can remember, as they're fab at taking off make-up, and leaving your skin feeling really refreshed and soft. I even carry a travel pack around in my handbag!
I was sent to try out a number of products, including the Simple Facial Wipes and Light Moisturiser, which I have been using for a while as well, but I was thrilled to find out I had been sent a number of products I have never used, and have been meaning to try for ages. I've been testing them out over the last few days, and have come up with a little review of my absolute favourites!
First up, the Kind to Skin Moisture Boots Hydro Cream. This is my FAVOURITE! I get quite dry skin on my forehead for some weird reason, and so I was quite intrigued when I read the words "moisture boost." I applied the cream to my my whole face, and wow...immediately it felt hydrated and so soft. Not only that, the effects lasted all day. Normally my moisturiser tends to wear off after a few hours, but this kept going. It has extracts of Lotus Flower and has UVA protection, so it is perfect for wearing out in the sun. I LOVE this moisturiser!
Next, the Moisture Boost Hydro Mist - another fab product. I popped this in my handbag and spritzed it on my face whenever I was feeling a bit dehydrated or tired. It is so lovely - the spray is a really fine mist and gets absorbed instantly and leaves your skin looking really dewy and super soft. It's great as you can use it over make-up, and it really does leave you feeling refreshed and moisturised. Try this if you want an on the go solution to dry skin!
Next I tried the Kind to Lips Intensive Moisturiser - again, a great product for the changing weather and chapped lips of the horizon! I applied this instead of my usual lip balm, and was so happy with the results. My lips felt so soft and smooth and you also get a lovely natural gloss effect! I'm going to keep using this, as I found when I applied it a few times throughout the day, my lips got softer and softer.
My final review is of the Kind to Eyes Eye Make-Up Corrector Pen. This is perfect for me as not only do I have sensitive skin, but I lurrrrrve playing around with eye make-up. I always wear eye-liner and mascara, and somethings eye-shadow, and although I consider myself to be somewhat of an expert(!) I do occasionally make make-up errors, so this product is a real essential! I tested it out by smudging some mascara and liquid eyeliner under my eye, and then applied the pen. It took a few strokes to get rid of the eye make up completely (but it was liquid eyeliner) but it definitely worked, and you can be really precise, as it is a pen, so you don't have to touch the make-up around the smudge. Perfecto! It also left my skin super soft.
Click here to view the whole Simple collection
Simple have also been working with celebrity make-up artist Caroline Frazer (who is also they skincare expert), on how to achieve the new season's top make-up trends. My favourite trend that she dissects is "Caramel Face." I was sent the info on what you need to do to create this look, and I thought I would share it with all of you! Enjoy x
The Look – "Caramel Face" –
Seen at shows such as Matthew Williamson and Donna Karan. Caroline says: "Of all the A/W looks Caramel Face is probably the most wearable and easiest to re-create at home. It's very sensual and romantic with lots of caramel shades and natural brows paired with soft fleshy lips. With a spotlight on buffed skin; it has nowhere to hide".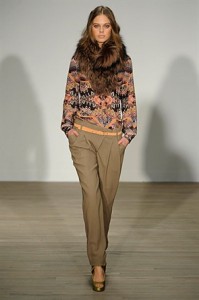 Matthew Williamson
Donna Karan
How to achieve the look – "Start by prepping the base by creating fresh, healthy looking skin – take time to cleanse and tone, then moisturise with Simple Kind To Skin Moisture Boost Hydro Cream (Recommended Retail Price £5.99). Crammed full of Lotus Flower goodness, renowned for its moisturising properties, it will super hydrate and instantly refresh parched skin.
Next, apply your palette of soft toffee and butterscotch shades to eyes, cheeks and lips and blend blend blend. It's all about working them into the skin so you don't have any harsh or obvious patches of colour
Cheekbones
– Opt for tawny matte cheekbones. It's all about subtle hues rather than pops of colour.
Brows
– Keep brows natural and tidy – slick with a little extra moisturiser and comb through with a clean tooth brush or apply a clear brow gel to keep unruly hairs at bay.
Eyes – To get that reflective look, use a creamy eye shadow with high pigment or highlight with Simple Radiance Brightening Moisturiser SPF10 (RRP £6.99) – its light reflecting particles will help to open up the eye. Finish with an intense shot of colour to lids.
Lips – Keep lips nude – you are only looking for a suggestion of colour so dab on a tiny bit of concealer with your finger tip and complete the look with a top coat of nude lip gloss or Simple Kind To Lips Intensive Lip Moisturiser (RRP
"Finally" says Caroline, "Finish off with a quick spritz of Simple Kind To Skin Moisture Boost Hydro Mist (RRP £5.99). It will create a subtle dewy sheen to skin and can even be used over make-up."