I know I only posted about Lana Del Rey at the Met Gala this morning, but I've been checking out a few more of my favourite looks on the red carpet, and couldn't help but notice all of the tweets, blog posts and website goss about a certain lady's red carpet look - my idol, Beyonce.
I don't take kindly to people saying bad things about this woman - I've loved her since way back in the day when she was in Destiny's Child, and my cousin Lucie and I used to learn her dance moves in her her front room. Having just been voted the world's most beautiful woman by People magazine, and popping out a gorgeous little girl, the Met Gala was Beyonce's first really big red carpet moment for a long time.
If you haven't already seen what she wore...here you go!
First of all, flawless skin, gorgeous make-up, chic and sophisticated pony tail, and an eye-catching, breath taking gown from Givenchy Haute Couture. The sheer gown had an amazing jewel and sequin applique, a beautiful curve hugging fit, which showed off her amazing post baby figure and it was topped off with a wild black and purple feather train!
Yes it's a bit OTT, yes it might not have been the most obvious choice, but who cares? This is Beyonce, world's most beautiful woman and quite frankly, she could have worn a black bin liner or a dress made of Tesco carrier bags and she still would have rocked that red carpet!
You go Beyonce, you do no wrong in my eyes ;o)
Full line up of my favourite best dressed coming up tomorrow. Enjoy x
amazing post baby bod!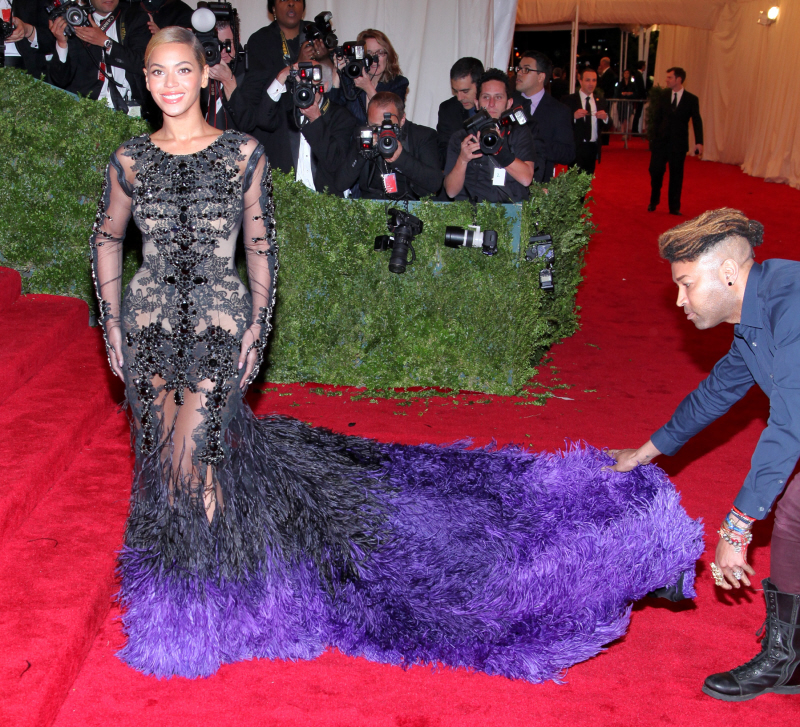 yeh my dress comes with its own servant....what?